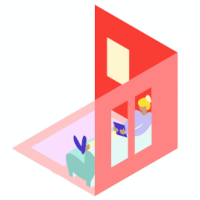 Haslach, was ist hier möglich?
What's possible in Haslach?
Haslach, ce putem realiza aici?
Haslach, qu'est-ce qui est possible ici?
Haslach, šta je li ovdje moguće?
Haslach, cosa è possibili qui?
Dear residents of Haslach,
"Neighbourhood talks – Supporting one another and togetherness in Haslach"
The municipal office for the promotion of civic engagement, supported by the state of Baden-Württemberg, conducts a survey in the district of Haslach according to the motto "Haslach, what's up?". The focus of the survey is on strengthening togetherness and promoting projects.
For this purpose, we would like to learn more of your interests and satisfaction in the district and kindly ask you to communicate us your assessments. The result of the survey will be published in spring 2021. The objective is to continue working together on main topics with large response. First of all, we are interested in your opinion and ideas!
The participation in the survey is voluntary and of course anonymous! To fill out the questionnaire, you will need around 10 minutes.
Please leave us your contact details so that we can inform you about the next activities of our neighbourhood talks! Your feedbacks will be saved separately from your contact details.
I am at your disposal for any questions and information.
Gerhard Rieger, City of Freiburg, Office for Civic Engagement
Rathausplatz 2–4, 79098 Freiburg, phone number 0761.201 3052, email address: gerhard.rieger@stadt.freiburg.de
Many thanks for your cooperation!
Kind regards
Gerhard Rieger
Office for Civic Engagement
Questionnaire
---